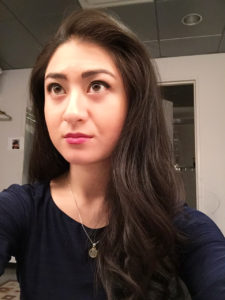 Stephanie Bertumen is a Twin Cities-based actor/singer/dancer. Born in Los Angeles and raised in the Salt Lake City area, she
moved to Minneapolis to pursue her undergraduate studies at the University of Minnesota.
In the BA Theatre Arts Program, she focused on performance in physical theater and collaboratively-devised work. During her sophomore year of college, she re-auditioned for and was accepted into the University of Minnesota/Guthrie Theater BFA Actor Training Program. The third year of the program included a semester in London where Globe Education courses, performing on the Globe stage, and classes at the London International School of Performing Arts gave Stephanie new approaches to her craft. She graduated summa cum laude with distinction with her Bachelor of Fine Arts degree in Acting in 2014.
Today Stephanie considers herself fortunate to spend most of her time in one of the most vibrant theater scenes in the U.S., found in the Twin Cities. She has enjoyed working with such theaters as Mu Performing Arts, Children's Theatre Company, Ordway Center for the Performing Arts, and Ten Thousand Things Theater Company, among others.
Her experience ranges from musicals to texts of classical stature, on-camera to voice-over work, as well as choreographing, assisting as dance captain, and participating in the development of new theatrical works. As the guest choreographer for Chaska High School's production of "The Great Gatsby" Stephanie had the privilege of employing her love for both dance and teaching, ever inspired by artists in training. She was the choreographer for Old Log Theatre's production of "The True Story of the Three Little Pigs."
Firm in her Catholic faith, Stephanie serves as a cantor at The Basilica of Saint Mary, the co-cathedral of the Roman Catholic Archdiocese of Minneapolis and Saint Paul. Johann Sebastian Bach is quoted as having professed, "I play the notes as they are written, but it is God who makes the music." As a person and as an artist Stephanie is desirous of following wherever the Holy Spirit leads.
Ms. Bertumen treasures her mentors past and present, namely: Randy Reyes, one of her very first influences and who continues to be an invaluable guide; and the late Ken Washington who gave Stephanie the chance to live her dream. She is also deeply grateful to her family and dedicates her work to the memory of her mother.
Mom, thank you for being my best friend on this journey. I love you boundlessly. Infinitely.